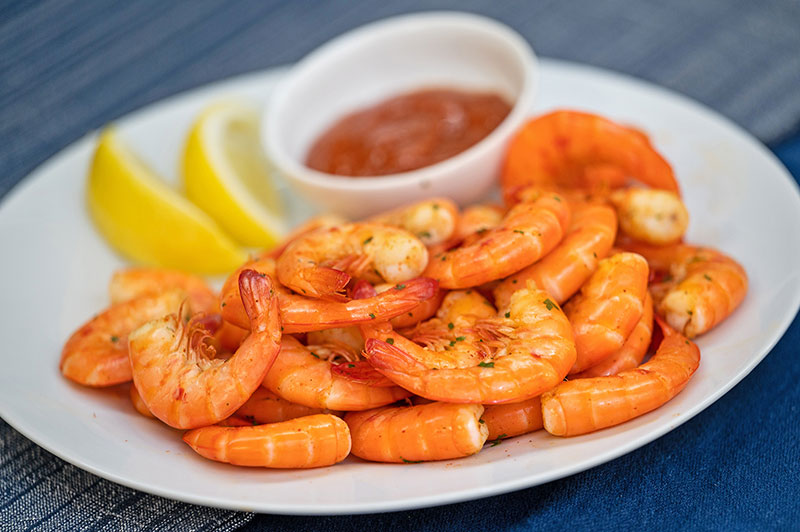 Shrimp & Shellfish
Gulf Shrimp
We offer a wide selection of local shrimp
---
Sweet Deep water Red Shrimp
Caught off the pristine Patagonia Coast
---
Blue Crab Meat
Local hand picked crabmeat
---
Scallops
100% natural Sea or Bay Scallops
---
Lobster & Lobster Claws
Cold or Warm Water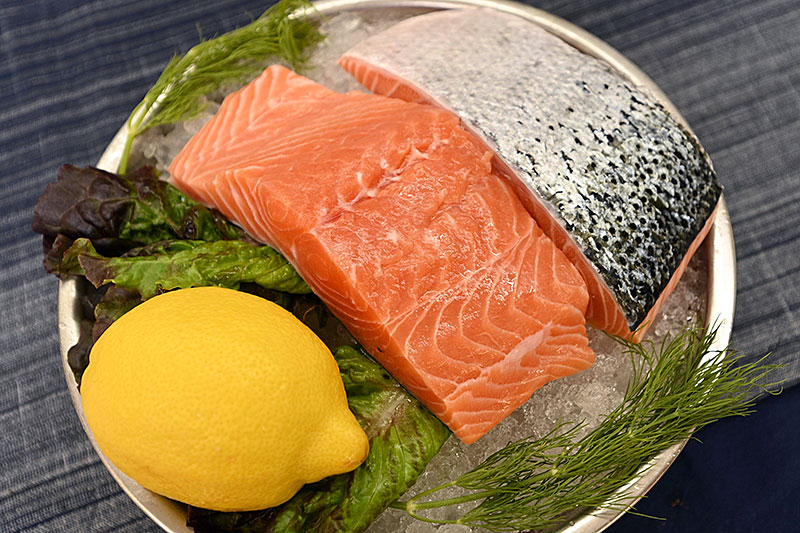 Oceans Catch
Local and globally sourced fish.
Fresh Atlantic Salmon
BAP Certified
---
Fresh Atlantic Salmon Seasoned/Crusted
Brown Sugar & Bourbon, Lemon Pepper, Almond/Sea Salt & Black Pepper, Roasted Garlic & Herb, Crab Stuffed, Lemon Butter Dill, with more to come!
---
Tuna Sushi-Grade
Yellow-fin, Blue-fin, Ahi
---
Redfish Fillets
Blackened, Almond Coconut
---
Snapper Fillets
Lemon Butter Dill
---
Catfish Fillets
Blackened
---
Grouper Fillets
Crab Stuffed, Almond Coconut Crusted, Crawfish Stuffed Grouper
---
Tilapia Fillets
Blackened, Garlic & Herb, Crawfish Stuffed Tilapia, Crab Stuffed Tilapia
---
Flounder Dressed or Fillets
Crab stuffed dressed flounder
---
Mahi Mahi
---
Swai
---
Lemon Butter Dill Triggerfish
---
Swordfish
---
Cobia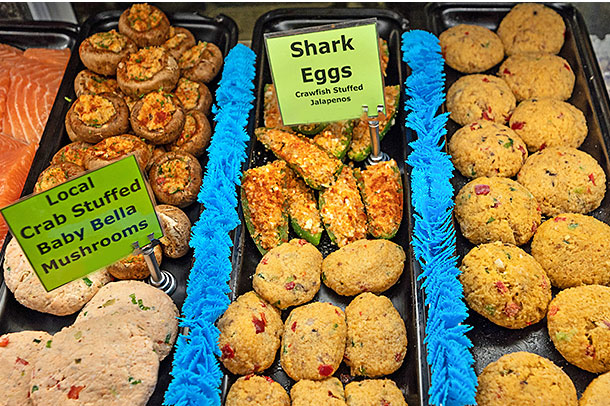 Lartigue's Handcrafted Creations
Handcrafted daily by our in-house chef
Local Seafood Potato Pies
A full meal itself
Shrimp & Crab, Crab, Shrimp or Crawfish, Stuffed Potatoes
---
Seafood Casseroles
Perfect for any occasion
Crawfish & Corn
Crab & Corn
Shrimp & Crab Wild Rice
Shrimp & Crab Mac N Cheese
---
Crab Stuffed Baby Bellas
Oh so yummy
---
Shark Eggs
Crawfish & Pepperjack stuffed jalapenos
---
Gator Eggs
Crabmeat & Cream Cheese stuffed jalapenos
---
Shrimp Ticklers
Crabmeat shrimp & cream cheese jalapeño stuffed
---
Stuffed Shrimp
Crabmeat stuffed shrimp
---
Lartigue's Seafood Gumbo
Made with Love by the Lartigue Family since 1978
---
Burgers & Croquettes
Our unique and healthy twist on an American classic
Spinach & Feta Salmon
Salmon Croquettes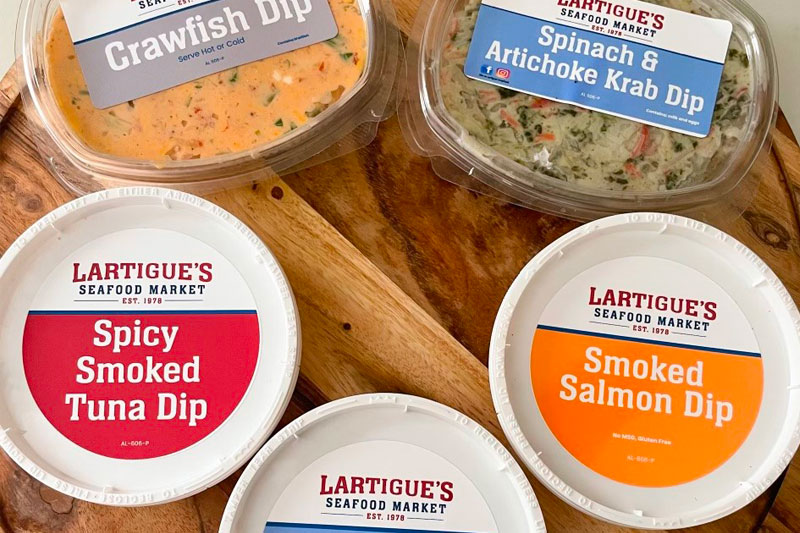 Dips, Sauces and Salads
Fresh daily, all day!
Remoulade Sauce, Cocktail, and Lemon Butter Garlic Sauce
You'll never make your own again…enough said!!
---
West Indies Crab Salad
A staple in lower Alabama made with lump crabmeat
---
East Indies Crab Salad
For those that prefer claw crabmeat and green onion
---
5 Star Shrimp and Crab Salad
---
Smoked Tuna Dip (Spicy or Original)
Made with our sushi-grade tuna
---
Smoked Salmon Dip
Put a kick in your dip
---
Crab & Spinach Dip
One of our most popular dips for all occasions
---
Spinach & Artichoke Crab Dip
Your new favorite dip…we promise
---
Seafood Salad
A twist on your ordinary salad
---
Crawfish Dip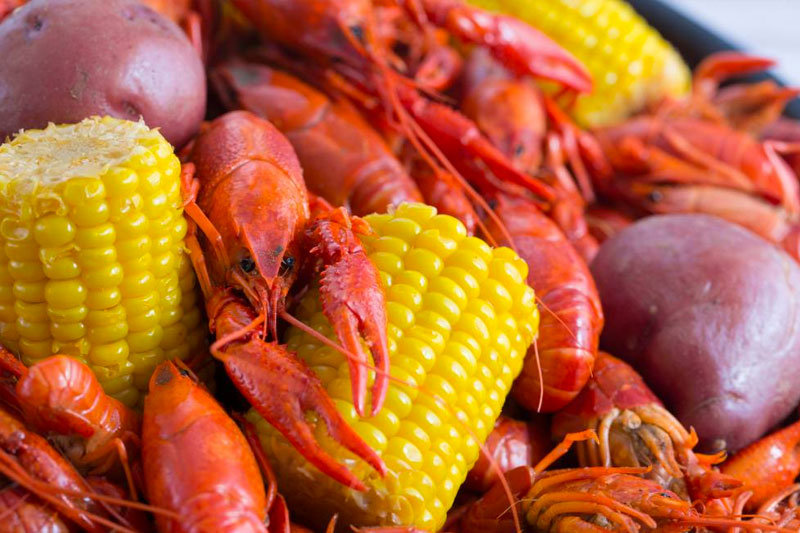 Crazy Cajun Selections
Poche's Family Options
Alligator Sausage
Crawfish Sausage
Shrimp Sausage
Crawfish Boudin
Pork Boudin
Hand Packed Andouille Sausage
Boneless Stuffed Chickens
Shrimp or Crawfish
Crawfish Stuffed Chicken Breast
Cajun Crawfish
Lousiana Cajun Boiled Crawfish
Handpicked Lousiana Crawfish Tail Meat
---
Handmade in Coden, AL
Just for Lartigue Seafood
Crab Cakes
Mini Crab Cakes
Mini Crawfish Cakes
Crab Pies 6″ or 9″
Crawfish Pies 6″ or 9″
Crabmeat Stuffing
Stop by for more selections!
We are constantly updating our selection of local and globally sourced seafood. Stop by one of our four convenient locations to see what's new!